Founded in 1965, this family business is now one of the 3 largest French sofa manufacturers. It was in 1997 that the sons of the company founder specialized in the manufacture of interior furniture.
Fifteen years ago, the family business specialized itself in the designing and manufacturing of high-end sofas, chairs and armchairs. family group Home Spirit specialized in the creation and manufacture of high-end sofas, chairs and armchairs. Today, the Home Spirit catalog offers sofas, sofa beds, armchairs and accessories, made in France in an eco-responsible approach. The Home Spirit signature is also fully customizable: size, comfort, upholstery and style: allowing design, quality and durability to be combined.
At Home Spirit, creation and innovation are keywords. The group owns its own design department composed of experts and stylists that think tomorrow's products and create today's one. A state of mind based on a simple idea: each Home Spirit's customer needs to find the product that will suit him. We propose a variety of fabrics and styles, from modern to baroque.
Home Spirit, a manufacturer, but above all a family business
Every day, about 150 sofas leave our manufacturing plants. Efficient and responsive, by aiming on a local approach Home Spirit can keep a high level of quality.
Innovation and creation are at the core of the company. A design department allows us to anticipate trends and meet our customers' demands. We designed many different shapes of sofas for you to choose between our different collections.
Skills at Home Spirit revolve around a common objective: a fast and precise response to the latest trends. Designers, stylists and engineers, with the help of different teams from our different plants, put their expertise for those in search of quality and style at a reasonable price.
Each range designed at Home Spirit is unique, while being very versatile to satisfy every person's taste. Home Spirit allows each one of its clients to create its own cocoon, by letting you choose the shade, the fabric, the size and the comfiness, etc.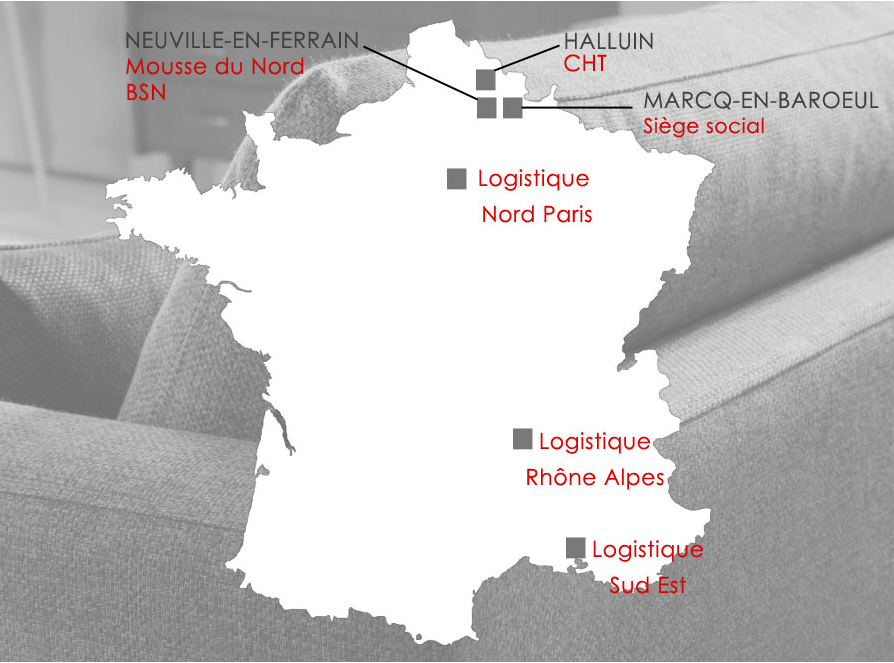 Home Spirit is composed of:
CHT GROUP
It's where everything starts. This place gathers the design department as well as the foam and sewing department. Based in Halluin (North of France), this is the place where all the products are conceived, reviewed and designed. Once a design has been approved, the covers are cut and sewed and then filled with foam.
MOUSSE DU NORD GROUP
Based in Neuville-en-Ferrain (North of France), this factory put the frame, foam and cover of our products together (sofas, armchairs, long chair, footstools...).
BSN GROUP
Based in Neuville-en-Ferrain as well, this plant is the carpentry of our group. It's where we manufacture the frames and designs all of our products (sofas, armchairs, chairs...)
Home Spirit is now open to the US market. 
Home Spirit stands out for its complete customization options, offering a range of different types of linen depending on the desired effect, and a wide selection of colors. Thanks to our expertise in design, quality and durability, we are leaders In Linen Fabric range, guaranteeing a perfect blend of style and durability.
In 2022, Amaury de Laurens decided to write a new chapter by joining the team and importing the brand in the US market. The first home spirit USA showroom has opened in one of the most dynamic city, Miami ! Home Spirit guarantees exceptional craftsmanship and timely delivery throughout Florida. 
Our goal is to expand to the rest of the United States to meet the demand.
490 NW South River Drive
Miami 33128
Please contact the showroom at the following address to make an appointment :
contact@homespiritusa.com